Overview
Bueng Borpahet came to prominence in 1968 with the discovery of White-eyed River Martin Pseudochelidon sirintarae - a bird of near mythical status, last recorded 1980, and currently assumed to be extinct.
| | |
| --- | --- |
| Cotton Pygmy Goose. | Although originally a wetland, the lake as it currently stands, was created in 1930 by damming, and today consists of more than 220 square kilometres. The area is generally considered the most important waterbird habitat in central Thailand, and a reasonable area of the lake is gazetted as a protected non-hunting area. However, fishing, vegetation gathering, and general disturbance means the wildlife of the area still faces enormous pressure, and in 2014 this area was dredged for production of lotus plants and has still not recovered. Rank commercialisation remains a serious threat. To make matters worse, the poor rains of 2015 have reduced lake levels to dangerously low levels. Even so, this still remains an interesting birding locality, and one of the few remaining places from which Baer's Pochard is occasionally recorded. Information on this page verified/accurate as of 10 Feb 2017. |
Access
The lake is situated just to the east of Nakhon Sawan city, which itself makes a good base from which to explore the surrounding area. Nakhon Sawan, the provincial capital, lies directly on Highway 1, about 250 kilometres north of Bangkok, with the drive taking something in the region of three hours.
| | |
| --- | --- |
| | Birding areas are found on both the southern and northern shores of the lake, which are accessed from Highways 225 and 3001, off Highway 1 just south of town. No access fees are charged at either the Recreation Area or Waterbird Park. |
Accommodation and Facilities
With an ample supply of hotels, restaurants and shopping facilities, Nakhon Sawan makes an easy base. A number of hotels, in several price ranges, is available. At the birding areas themselves, restaurants are available around the Bueng Boraphet Recreation Area on the northern shore, but only simple kiosks at the Waterbird Park. Convenience stores are found along both access routes for early breakfasts.
Birding
Nakhon Sawan tends to be extremely hot, so birding is best restricted to early mornings and later afternoons, with longer rest periods during the heat of the day. The best time of year is undoubtedly the dry season between November and March, when northern wintering birds are present, but the wet season brings visitors as such Black Bittern and Spot-billed Pelican. Within a couple of days, visiting both shores, various habitats, and maybe taking a boat trip, it's possible to amass an impressive list. Waterbird species of note include both Pheasant-tailed Jacana and Bronze-winged Jacana, Grey-headed Swamphen, Cotton Pygmy Goose, Pied Kingfisher, Eastern Marsh Harrier, Oriental Darter, and in the dry season, Garganey and Northern Pintail. Reed beds of the lake margin hold a confusing array of warblers, including Dusky Warbler, Black-browed Reed Warbler, Oriental Reed Warbler, Pallas's Grasshopper Warbler, Lanceolated Warbler and Thick-billed Warbler.
Bueng Boraphet Waterbird Park

The most productive area is likely to be the Waterbird Park on the southern shore. From Nakhon Sawan head southward out of town on Highway 1 toward Bangkok. Just after crossing the Nan river, zero the trip meter at the Highway 225 turnoff. Continue southward a further 1.2 kilometres and take Highway 3001, signposted to Tha Tako. The entrance to the Waterbird Park is well signposted on the left after 13.8 kilometres. From here to the parking area is 3.5 kilometres. Some scrub passed on the right can be interesting for those with time.

Several birding options are available; a boat trip, the observation towers, the Nature Trail and the boardwalk. Early morning is best for a boat trip, which will take two to three hours, and best arranged the evening before by asking at the kiosks. The best boatman, who knows the birds, is Khun Phanom. Taking the boat is the best way to encounter ducks, which are usually well away from the shore and often in the lotus. Lesser Whistling Duck is common, with some wintering northern ducks. This is the best way to encounter Cotton Pygmy Goose, and other species often recorded include Whiskered Tern , Sand Martin, Oriental Darter, Eastern Marsh Harrier, both jacanas and White-browed Crake.

White-eyed River Martin monument


Plain-backed Sparrow

Another morning's birding can also be had walking the 2.5 kilometre loop from the parking area, along the Nature Trail and back along the paved route from the tower via the river martin monument. The scrub, reeds and rank grassy pools along this loop are a real challenge of small, skulking, brown birds with a plethora of 'tic' and 'tac' calls. Black-browed Reed Warbler and Dusky Warbler are common. Other species to look out for include Siberian Rubythroat, White-shouldered Starling, Forest Wagtail, Pink-necked Green Pigeon, Yellow-bellied Prinia, Ruddy-breasted Crake, Cinnamon Bittern, Freckle-breasted Woodpecker, and both Baya Weaver and Asian Golden Weaver. A recently constructed boardwalk leads from the monument to another observation and back to the kiosks and parking area.

Southern Fields and Scrub

Quail, buttonquail and lark species were all once prevalent in the area, but have declined with increased farming and development. One good area of fields which are usually left fallow in the dry season, can be found by turning northward off Highway 3001 at 8.7 kilometres. At 12.2 kilometres a right turn leads, by paved back road, to the Waterbird Park. Fields along here are worthy of investigation and often hold Indochinese Bush Lark. When dry only, it's possible to continue north on dirt tracks to the lake edge at 14.1 kilometres, and even cross the dam on a dirt road. Any fields or scrub could be investigated.
Bueng Boraphet Recreation Area and Fisheries Research
The northern shore is more developed, but around the Bueng Borpahet Recreation and Fisheries Research Area is worth a look. Take Highway 225 south of Nakhon Sawan for 5.9 kilometres and turn right, which is marked with an enormous Bueng Boraphet sign. Good views across the lake are available from anywhere along the shore with Oriental Pratincole, Oriental Darter and numerous egrets likely. Pied Kingfisher can usually be found. The remaining trees and small amount of scrub hold Freckle-breasted Woodpecker, Spotted Owlet, Black-naped Oriole and Blue-tailed Bee-eater. Boats, to explore the northern shore, can be arranged from the jetty near the restaurants.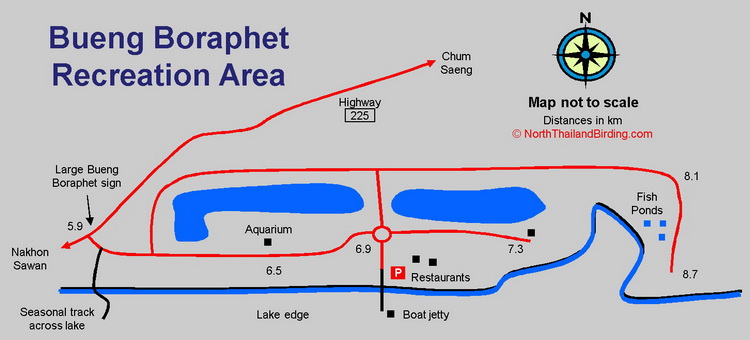 | | | |
| --- | --- | --- |
| Chinese Pond Heron | For those interested in further exploration it's possible to find farm tracks off Highway 225 leading toward the lake edge - these are likely to be good for wintering migrants when not under intense rice cultivation. | Pied Kingfisher |
Checklist
Checklist of species.
Sunrise and Sunset
Detailed sunrise and sunset times.
Gallery
Additional images from Bueng Boraphet available in the Thailand photo gallery.