Overview
Chae Son National Park is extremely under watched ornithologically. Currently the information here does not cover the park per se, but rather the 50 kilometre stretch of Highway 1252 leading to the park.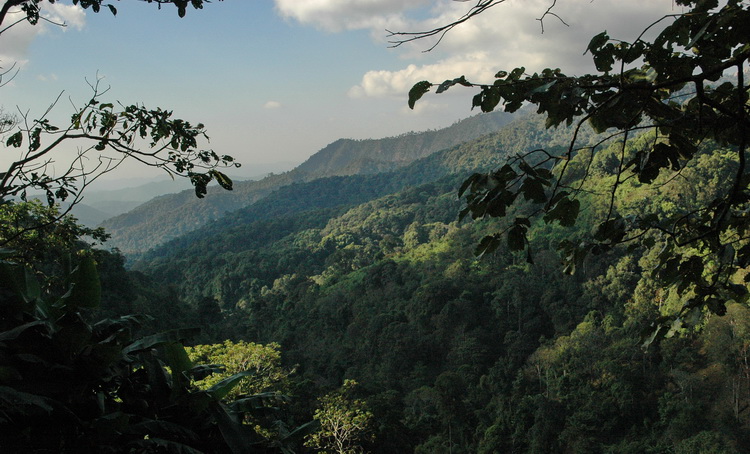 It's easily possible to spend more than half a day birding along this road before even arriving at the park. The park itself lies primarily in Lampang Province, but the first half of Highway 1252 is in Chiang Mai Province. Information on this page verified/accurate as of 15 December 2011.
Access
The park is about 50 kilometres east northeast of Chiang Mai and can be accessed indirectly via several cross-country roads. However, the easiest access, which also offers the best birding, is along Highway 1252. From Chiang Mai head northeast along Highway 118 through Doi Saket toward Chiang Rai. Seven hundred metres after road marker Km 43, turn sharply right on Highway 1252 - sign posted to Chae Hom. Beware of speeding traffic on the fast Highway 118 as this turn is on a bend. Zero the trip meter at this junction. The first couple of kilometres of this road are rather steep, with birding possible pretty much anywhere for the next 50 plus kilometres. If returning to Chiang Mai it is quicker to take the southern part of the loop road to join Highway 118 around Km 26.9 from Chiang Mai, but this road is steeper with less interesting habitat with more villages and cultivation.
Accommodation and Facilities
Within the park the usual national park bungalows and campsites can be found. However, as the interesting birding is less than an hour's drive from Chiang Mai, staying outside the park is a more likely scenario. In additional to the plethora of accommodation options in Chiang Mai, resorts can be found around Doi Saket - 16 kilometres from Chiang Mai along Highway 118 - as well as a couple of resorts near the start of Highway 1252.
Once off Highway 118, other than very local stores, almost no facilities are found, so bring all food and water. No fuel stations are available along this route either, so given the 100 kilometres of mountain roads likely to be covered ensure there's enough fuel in the tank before setting off. In the event of problems fuel could likely be found from a drum by asking in villages.
Birding
As Highway 1252 is not heavily used by traffic, birding along the road is a pleasant experience. Although a few sections are steep, parking and walking is possible almost anywhere. None of the forest along this route is officially protected and some larger areas of coffee planations and other cultivation are found. However, the road passes though an altitude range from about 600 - 1,400 metres and offers several forest types.

Painted Jezebel


Hill Blue Flycatcher


Yellow-bellied Warbler


Black-crested Bulbul


Due to the steep terrain, access off the main road into good forest is difficult. Some tracks leading through forest edge to agriculture can be explored - politely ask any local people if coming across them, but they are sure to be obliging and interested, as very few foreigners come walking along this road.

Km 0.0 to Km 9.3

A good stretch of road early morning. The altitude along this stretch varies from 620 metres to just over 1,100 metres. Most of the forest along here is tall with more open and dryer forest initially, gradually changing to evergreen after about 5-6 kilometres. Interesting species along here include Rufous-winged Buzzard, Wedge-tailed Green Pigeon, Crested Treeswift, Black-winged Cuckooshrike, Vernal Hanging Parakeet, Long-tailed Broadbill, Small Minivet, Brown-cheeked Fulvetta and Puff-throated Bulbul. Both Rufous-throated Partridge and Bar-backed Partridge are occasionally heard.

Km 9.3 - Km 18.0

The road follows a valley, and at times borders a narrow river. The habitat along this section is more lush and dense, but also more cut over. The river holds both Plumbeous Water Redstart and Slaty-backed Forktail, though not in any numbers, and finding a good view of the river is tricky. A variety of sunbirds and flowerpeckers are likely to include Ruby-cheeked Sunbird and Plain Flowerpecker, with Pale Blue Flycatcher and Rufous-gorgeted Flycatcher possible. Baikal Bush Warbler occurs in the dense undergrowth.

Km 18.0 - Km 25.0

At 19.8 kilometres a fork to the right loops back to Chiang Mai, while bearing left continues toward Chae Son park. The habitat along here is initially evergreen with large areas of shade coffee which is still good for birds. This stretch often has feeding flocks, which can contain Rufous-crowned Warbler, Davison's Leaf Warbler, Martens's Warbler and Claudia's Leaf Warbler. Other possibilities include Orange-bellied Leafbird, Yellow-bellied Warbler and Golden Babbler. As the road winds higher it passes along a ridge with the forest becoming dryer and more open. Birds in this area include Black Baza, Blue Rock Thrush and Slaty-backed Flycatcher. Spot-winged Grosbeak has occurred at these higher elevations.

Km 25.0 - Km 50.0

Largely unexplored. The forest becomes dryer. lower, more open and scrubby.
Checklist
Checklist of species.
Sunrise and Sunset
Detailed sunrise and sunset times.