Overview
This national park is named after the Chompoo Phu Kha trees Bretschneidera sinensis that grow on the mountain - the only locality in Thailand for this globally threatened tree. The tree has a large pink fluorescence that, for those wishing to photograph it, flowers in February and March.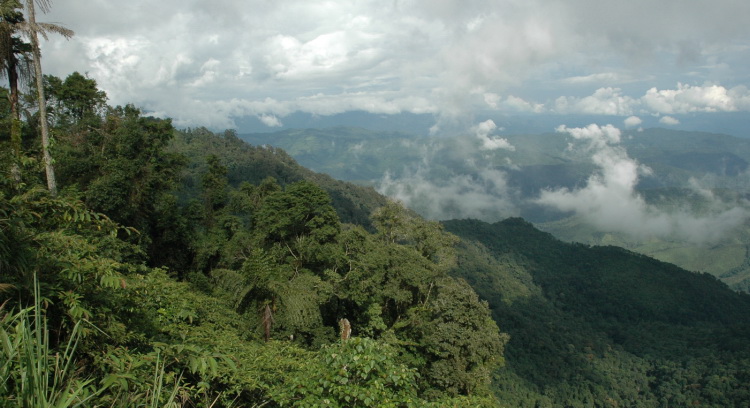 View from pass at 1,684 metres.
The park is also home to two rare nuthatches - Beautiful Nuthatch and Chestnut-bellied Nuthatch. Unfortunately, both are extremely difficult to find even here and neither are likely to be found on a short, casual visit without a great deal of luck. Somewhat unexpectedly, the mountain also holds a number of specialities only shared with Doi Pha Hom Pok and Doi Lang farther to the west, such as Whiskered Yuhina and Black-throated Bushtit. Due to being slightly off the beaten track and several hours drive from most other birding sites, this area is not frequently visited by birders, and without doubt holds interesting discoveries still to be made. Information on this page verified/accurate as of 1 Mar 2018
Access
As the nuthatch flies, the park lies 250 kilometres east of Chiang Mai, near the Laos border, although getting there takes time due to less then direct driving routes. From Chiang Mai the quickest route is via Lampang and Phrae and then on Highway 101 to Nan. From Bangkok head to Phrae via Sukhothai or Uttaradit, then Highway 101 to Nan. From Nan head north on Highway 1080, 60 kilometres to Pua, that acts as the gateway to the mountain. From Pua take Highway 1256 that crosses the mountain and passes directly though the park. Highway 1256 runs for 47 kilometres from Pua, passing the park headquarters after 25 kilometres, to Bo Kluea on the eastern, where it hits Highway 1081 running along the Laos border. From Chiang Mai the driving time is six to seven hours. Note that highway 1256 is a winding mountain road that suffers extensively from landslides. Access in the wet season is only recommend with a pickup, or better a 4x4.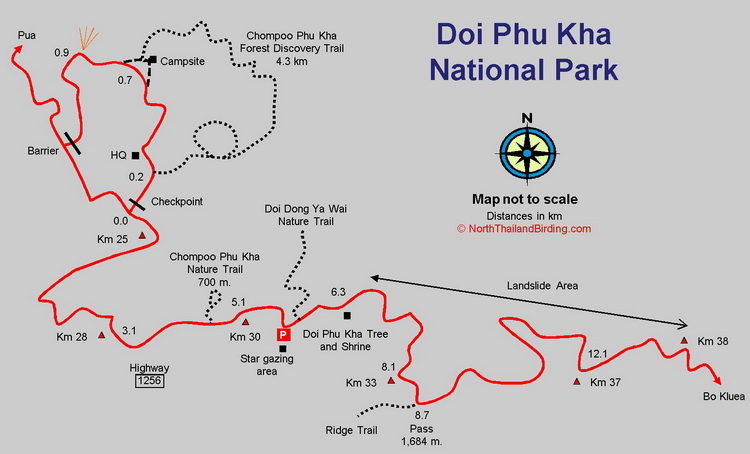 Accommodation and Facilities
At the park itself there's a good range of bungalows and houses in blocks, as well as a camp site. There are also some odd-looking "sleeping wagons" that must be very cheap and extremely uncomfortable. For those with transport a good choice is to use either Pua on the western side or Bo Kluea on the eastern side, as a base. Pua, being a town, has more accommodation and restaurant choices, but lies 27 kilometres, or a 40 minute drive, from the best birding areas. Bo Kluea, a quiet village with a couple of resorts, makes a good base as it is closer to the birding. However, in the wet season it is highly recommended to use Pua as a base, as the eastern side of the mountain is much steeper and suffers more landslides leading to road closures and lengthy repairs.
Once away from Pua or Bo Kluea few facilities can be found so bring all food and water. A simple restaurant and a coffee shop are available at the park headquarters as well a few roadside stalls can be found at the star gazing area. However, these can only be relied upon to be open during peak tourist times.
Birding
When driving up and over the mountain from Pua to Bo Kluea, forest can be found in an altitude range from about 700 metres to just above 1,700 metres at the pass, although not all of it lies within the park.

Whiskered Yuhina


Flavescent Bulbul

To access higher areas it's necessary to trek to Doi Dong Ya Wai - the highest point in the park, at just over 2,000 metres, or branch off the Nature Trail looping around the park headquaters, that reaches an elevation of 1,950 metres. Patches of agriculture and some large landslides have removed a lot of forest immediately adjacent to the road. However, with time, patience and covering a selection of altitudes, a good list of species can be seen. As most of the specialities lie at higher elevations in evergreen forest, this is where most time should be spent.

Headquaters Area (Km 25)

When coming from Pua, the park headquarters are on the left, 100 metres before the Km 25 marker. After paying the entrance fee at the checkpoint, several areas within the immediate surroundings can be explored. A 1.3 kilometre loop road runs past the Chompoo Phu Kha Nature Trail, camp site, viewpoint and ends back at the highway just after the accommodation units. Habitat around the loop is rather open with pines and secondary growth, but at 1,300 metres can hold good birds. Indochinese Yuhina is fairly common, and Whiskered Yuhina occurs.
Feeding flocks around the campsite might include Black-eared Shrike-babbler, White-browed Scimitar Babbler, Brown-cheeked Fulvetta, Davison's Leaf Warbler, Grey Treepie and Oriental White-eye. In winter various flycatchers are possible and the grassy clearings dotted around should be investigated for bush warblers and the like. Blue-throated Barbet and Great Barbet can be heard.
Chompoo Phu Kha Nature Trail
The loop Chompoo Phu Kha Nature Trail, runs from just below the visitor centre, for 4.3 kilometres, to exit at the northern end of the camp site. The trail is easier to find from the visitor centre where a board and a trail map are posted. However, central sections of the trail are difficult to follow, so take a ranger or GPS. The trail passes through a selection of open and forested sections. Immediately behind the entrance checkpoint is a small muddy pond that has held Jerdon's Bush Chat. In recent years, Beautiful Nuthatch has been found along the 1,900 metre ridge above and behind this Nature Trail. As the trail is indistinct it is advisable to ask for a ranger if attempting to access this ridge.
Star gazing Area (Km 28 - Km 31)

The best stretch of forest along the highway starts around Km 28 and runs to the pass just past the Km 33 marker, with an altitude range from 1,300 - 1,715 metres. It's worth walking this whole section - several times. Any of the specialities could occur along this stretch.

The star gazing spot - Lan Doo Dao in Thai - is well marked, and has a good parking area, just after the Km 30 marker. Walk up and down the road inspecting the forest edge. Species along here include Stripe-breasted Woodpecker, Blue Pitta, Bar-winged Flycatcher-shrike, Mountain Bulbul, Mountain Tailorbird, Davison's Leaf Warbler, Golden Babbler, Blue-winged Minla, White-gorgeted Flycatcher, Silver-eared Mesia, White-tailed Robin, Velvet-fronted Nuthatch, Little Pied Flycatcher, Large Niltava and Small Niltava. In winter a number of warblers should include Claudia's Leaf Warbler, Yellow-browed Warbler, Greenish Warbler, Martens's Warbler, Bianchi's Warbler and potentially Grey-cheeked Warbler

The viewpoint at the rear of the star gazing area makes a good lookout for raptors with Black Eagle and Mountain Hawk-Eagle possible.

Opposite the star gazing spot, perched ten metres or so above the road is a shrine. About 20 metres to the right of the shrine, is a trail labelled Nature Trail (known also as the Nuthatch Trail or the Doi Dong Ya Wai Nature Trail). This trail leads steeply uphill to a ridge which can be followed toward the highest point in the park after a couple of kilometres. It is along here in good evergreen forest that the Beautiful Nuthatch has been found. The climb to the ridge is hard going, so allow most of the day along this track to have any chance of finding the elusive nuthatch. Higher elevation species encountered might include Long-tailed Sibia, Scarlet-faced Liocichla and Black-throated Bushtit.

Shrine Area (Km 31 - Km 33)

Another parking area can be found at the popular shrine just after the Km 31 marker. Next to the shrine is a Chompoo Phu Kha tree. The immediate vicinity of the shrine is good evergreen forest with Slaty-bellied Tesia, White-gorgetted Flycatcher, Streaked Wren-Babbler, Large Niltava, Small Niltava and Black-eared Shrike-babbler. From here, up toward the pass, the road starts to suffer from landslides, but still much forest can be viewed adjacent to the road. Additional species might include Lesser Cuckoo (wet season only), Speckled Piculet, White-bellied Erpornis, Pygmy Wren-babbler and Yunnan Fulvetta. The rare Chestnut-bellied Nuthatch might be encountered and in most years nests just behind the shrine in Feb - March.

Pass Area (Km 33 - Km 37)

The immediate area around the pass differs from below in having less forest and more scrub and open habitat. A walk from the pass down the eastern slope for a kilometre or so might reveal Black-throated Bushtit, Whiskered Yuhina, Himalayan Swiftlet, Spectacled Barwing, Spot-throated Babbler and Chestnut-bellied Rock Thrush.

At the pass a trail goes off to the right along the ridge and is worth exploring. The trail acts as a firebreak, that is regualrly cleared at the start of the dry season, so most easily accessed then. As the road descends the mountain, the landslide clearance becomes worse until about Km 38 when lower altitude forest becomes established. Forest and scrub can then be found down as far as Bo Kluea village at Km 47.

Checklist

Checklist of species.

Gallery

Additional images from Doi Phu Kha available in the Thailand photo gallery.


White-throated Fantail


Black-throated Bushtit


Yunnan Fulvetta


Shrine at Chompoo Phu Kha tree


Spectacled Barwing


Silver-eared Mesia
Sunrise and Sunset
Detailed sunrise and sunset times.