Overview
This popular park lies very close to Chiang Mai, and its twin peaks of Doi Suthep and Doi Pui dominate the western skyline. The park was gazetted in 1981 and protects an area of 261 square kilometres of both dry and evergreen forest. The highest point, the summit of Doi Pui, is 1,658 metres. A further, smaller, area north of Chiang Mai at the Mae Sa waterfall is included as a separate part of the park. Due to its proximity to Chiang Mai this is a very popular destination with both local and international tourists, and becomes extremely busy at weekends and high season. Other than sight-seeing at the temple and palace, and visiting waterfalls, mountain biking is popular. From a birding perspective this park has been a little overlooked in recent years, as visitors concentrate on the richer forests of Doi Inthanon. However, a day or half day trip from Chiang Mai is almost always worthwhile as a good variety of forest birds still inhabit the mountain. Information on this page verified/accurate as of 12 Dec 2017.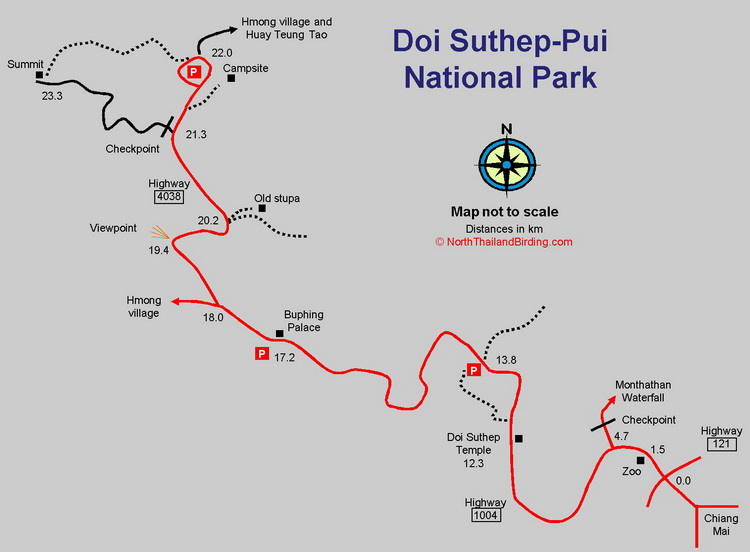 Access
The summit of Doi Pui is about 10 kilometres as the crow flies from Chiang Mai, but 25 kilometres or so by road. From the centre of Chiang Mai take Highway 1004, known by everyone as the Doi Suthep Road, from the northwest corner of the city moat. After about 2.2 km, zero the trip meter at the Highway 121 (Canal Road) intersection. From here follow the wide, winding mountain road past the very touristic Doi Suthep Temple at 12.3 km to Buphing Palace at 17.2 km. From here the road narrows considerably. At 18.0 a narrow lane, grandly referred to as Highway 4038, branches right toward the Doi Pui campsite at 22.0 km. This last 4 kilometres of narrow winding lane is the main evergreen forest for birding. After the campsite at 22.0 km it is possible to follow a paved road to a Hmong village, and from there, by 4x4 vehicle only, return down the other side of the mountain to the back of Huay Tueng Tao. Even with a 4x4 this back mountain road is not recommend in the wet season. This would form a loop back to Chiang Mai and is popular with mountain bikers. Note that the road in the up-direction from Chiang Mai can be closed in the late evening as the police usually set up a road block near the zoo preventing drunks and other undesirables ascending the mountain after dark. Surprisingly, general access along the highway to Doi Pui is free of charge. The park entrance fee is only charged when going through the checkpoint to Monthathan waterfall.
Accommodation and Facilities
Being so close to Chiang Mai, accommodation in the city is probably most practical. However, the park does have a campsite and a few bungalows for those who would like to appreciate the cooler weather. Note though that the campsite is closed from 1-May to 30-September. Numerous restaurant facilities are available on the road up, around Doi Suthep temple and Buphing Palace. At these stops, snacks, fruit and drinks are available from a variety of vendors. However, if camping it would be better to bring food from Chiang Mai as the restaurant at the campsite is only open on busy periods and likely to close early in the day.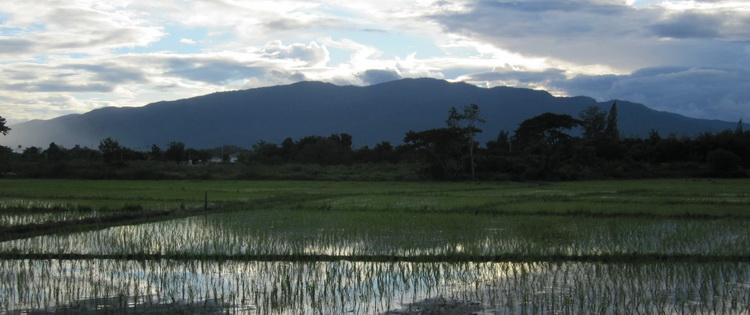 Doi Suthep-Pui from north Chiang Mai
Birding
Monthathan Waterfall
The road from the checkpoint passes through three kilometres of dry open forest and can be good for commoner species of this forest type. Although this road should be done early in the day, before as it becomes inundated with visitors, but unfortunately only opens after 08:30. In 2017, a new Nature Trail has been constructed, starting from the waterfall and looping 1.6 kilometres into the forest and back to the car park. However, note that this is no amble, with several very steep sections.
Trials Above Doi Suthep Temple
One and half kilometres above Doi Suthep temple is a large vehicle pull-in on the left side of the road. From here two trails can be followed through mixed forest. The first trail, to the south, is signed to a cave, and winds steeply down, past the uninspiring cave, to emerge just above Doi Suthep temple. This trail is fairly new and to date has not produced any outstanding birds, although the habitat is fine. The second trail is found slightly uphill and across the road, and is a wide jeep track with a low barrier, of late defunct. It's possible to follow the trail for over a kilometre or so uphill to a pump station and slightly farther to an official-looking barrier across the track which is presumably rear access to the palace. Puff-throated Bulbul is usually found, as well as Buff-breasted Babbler, Grey-headed Canary-Flycatcher and other common forest species. Some more unusual species include Long-tailed Broadbill, Silver-breasted Broadbill and White-necked Laughingthrush. In winter Siberian Blue Robin can sometimes be found. This trail is well worth a couple of hours at any time, though like much forest here, can often be completely dead.
Upper Evergreen Forest
The best evergreen forest is found along Highway 4038 between the turn off at 18.0 km and the campsite at 22.0 km. Trails are limited, so the best option is simply to bird along this narrow, twisting lane. Optimally try to avoid weekends and holidays, and be early to avoid traffic. A few minor tracks and stopping areas are found along this stretch. A viewpoint at 19.4 km offers some views, and forest edge birding.
At 20.2 km two parallel tracks are found. The left track runs about 150 metres to an archeologically important stupa - one of the oldest in Chiang Mai. The right hand trail winds downhill for about 600 metres toward Buphing Palace. Forest along both can be good for Asian Stubtail in the winter and Pale Blue Flycatcher. In the wet season Green Cochoa can be vocal in the area.
The campsite area offers views into more open forest and Great Barbet is often heard. Other species around this area should include Black-throated Sunbird, Blue-throated Barbet and Grey-capped Pygmy Woodpecker. Davison's Leaf Warbler is seasonally abundant.
At 21.3 km, the old road to the summit has a barrier and checkpoint; usually unmanned. Although previously closed, this area is now denoted as a Nature Trail. The forest along this upper two kilometre section is similar to that along the road, but pleasantly away from traffic. From the end of the road it is a farther 300 metres to the actual summit and from there a trail winds down through the forest to the campsite, making a good loop for the fit.
Birds that are often found in this upper evergreen section include Mountain Scops Owl, Grey-chinned Minivet, Blyth's Shrike-babbler, Mountain Bulbul, Ashy Bulbul, Yunnan Fulvetta and Slaty-backed Flycatcher. Silver Pheasant and Mrs. Hume's Pheasant are still present in very small numbers.
Track to Huay Tueng Tao
From the campsite at the top it is possible to continue along the, initially paved, road toward Huay Tueng Tao. The road is paved for a few kilometres, and then becomes a steep winding dirt track through progressively drier forest with scattered farmland and plantations. The initial forest is quite good and birds found along the length of this track are similar to those found in the cross-section of forest on the way up, along the paved road.
Checklist
Checklist of species.
Gallery
Additional images from Doi Suthep-Pui available in the Thailand photo gallery.
Sunrise and Sunset
Detailed sunrise and sunset times.