Overview
Although not known as a birding locality, this national park is passed en route between Mae Sot and Umphang, and makes a pleasant break. The park covers an area of over 850 square kilometres, adjoining both Khlong Wang Chao and Lan Sang national parks, but a lack of trails and access means only the area immediately around the park entrance can be explored. The habitat at the entrance and waterfall is mid elevation forest at 650 metres, but other areas of the park contain evergreen forest up to 1,765 metres. Information on this page verified/accurate as of 29 June 2012.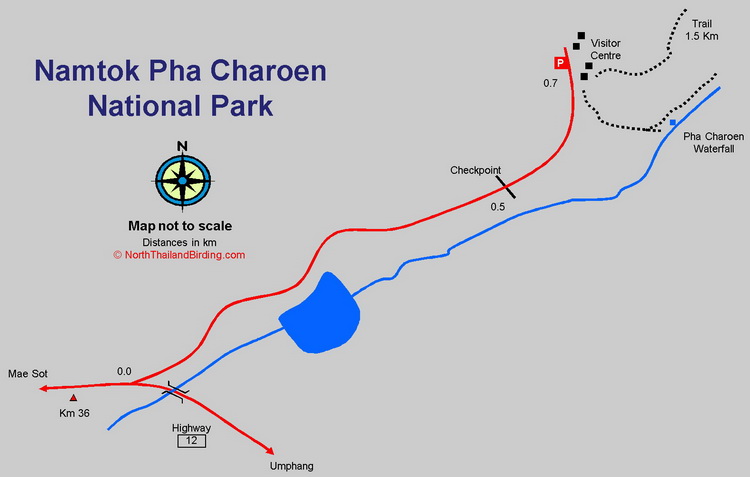 Pha Charoen Waterfall - wet season


Access

The park entrance is well sign posted, and situated 600 metres after the Km 36 marker (distance measured from Mae Sot), along Highway 1090 to Umphang. Pha Charoen waterfall, situated at the park entrance, consists of a 97 step cascade over a 50 metre drop. A second waterfall - Pha Wai waterfall - having 100 steps is is located near the Tak - Kamphaeng Phet province border, 20 kilometres north of Highway 1090. To find this, go to the Km 40 marker and turn off to Pa Wai village, which is 17 kilometres from the highway. From there it's three kilometres to the waterfall.
Accommodation and Facilities
A few of the usual park bungalows are available. Being a small and infrequently visited park no restaurant is available. Given the close proximity to Mae Sot with a good choice of accommodation, restaurants and shops, it would be advisable to stay in town.
Birding
Not investigated. The immediate vicinity of the Pha Charoen Waterfall is open forest with common species such as Golden-fronted Leafbird, Black-crested Bulbul, Greater Racket-tailed Drongo and Olive-backed Sunbird. Two trails are available. The first, a shorter trail, alongside the Pha Charoen Waterfall is easy to follow. A second more interesting trail starts behind the visitor centre and goes steeply uphill for 1.5 kilometres, and would appear to offer access to forest.
Checklist
Not available as insufficient time spent in the area.
Sunrise and Sunset
Detailed sunrise and sunset times.