Overview
The very small town of Thaton, on the banks of the Maekok River, has for many years been a stopping off point for birders travelling between other sites in the north. Visitors to Doi Lang will find Thaton an excellent base for exploring the eastern flank of that mountain. Information on this page verified/accurate as of 26 Feb 2017.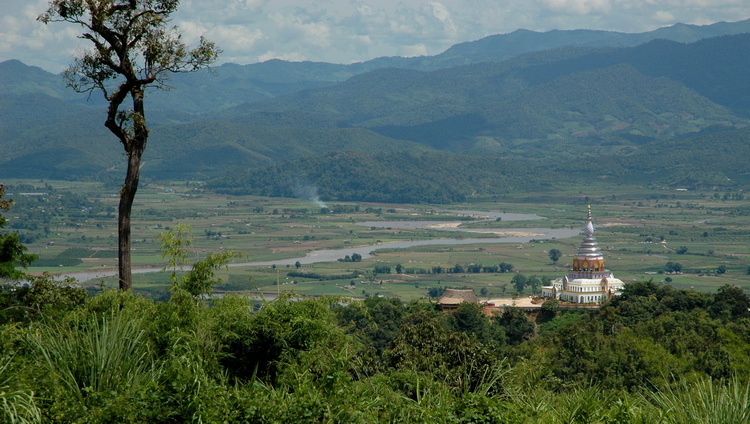 View across Maekok valley and fields from the temple above town
The fields, scrub and rank vegetation to be found around the town has, over the years, produced an excellent list of species, including many rare migrants. However, the recent acceleration of high intensity agriculture has diminished its allure for both birds and birders, with large scale irrigation systems now allowing all-year planting and monocultures to dominate. With each passing year it becomes harder to find undisturbed scrub, fallow fields and quite corners. Formerly, this was a haven for wintering buntings, that have now become almost impossible to find. Several interesting species still occur, including Horsfield's Bush Lark - a species becoming very difficult to locate anywhere in Thailand. With luck, Jerdon's Bush Chat might still be found along the river.

Zitting Cisticola


Oriental Pratincole


Eastern Marsh Harrier

Access

Thaton lies on Highway 1089 north of Fang. From Chiang Mai it's slightly less than a three hour drive, taking Highway 107 through Chiang Dao and Fang. When approaching Fang from the south, take the bypass to the west side of town following signs to Mai Ai. Thaton is reached 27 kilometres north of Fang. If coming from Chiang Rai or Chiang Saen, the driving time is between one and half and two hours. Driving north, continue on Highway 1 as far as Mea Chan and then look for Highway 1089 on the left, signposted to Mae Ai.

Accommodation and Facilities

Thaton, being somewhat of a tourist attraction - mainly as a stopover en route north - has a good number of resorts and guest houses to suit every budget. Other than the resorts, a few restaurants can be found along the main street, open into the early evening. A few convenience stores, can also be found here, but the choice of snacks can be a little unexciting, so it's a good idea to bring any favourites from a larger town en route such as Chiang Mai or Fang. This situation has improved recently with the opening of a new 7-11 on the main street, which is open 24 hours.

Birding

The main areas of birding interest are the fields and scrub to be found east and south of town. The whole area is a massive network of dirt tracks and walking bunds between the fields. The map below is rather simplified and shows only the major access points into the fields. As crop rotation and conditions vary constantly birding here is more a question of driving around looking for suitable areas. In the dry season between October and April access is possible by saloon vehicle. However, after any rain the dirt and clay nature of the soils make access even with 4x4 inadvisable - very easy to get stuck here.
Note also that cool mornings frequently start with a heavy blanket of fog across the fields often not lifting before 09:00. In these conditions it's also easy to become disorientated and unable to find the same tracks on return, although getting lost is not an issue as visibility is open once the fog dissipates.
Using the major bridge over the Maekok as a starting point, several access points can be found off the main highway, at 0.1, 1.2, 2.4 and 5.5 kilometres respectively from the bridge. In the more northerly section, the water tower adjacent to the river makes a good reference point and can be worth visiting to scan the far banks for Jerdon's Bush Chat. The river area itself usually has a few waders including Eastern Little Ringed Plover, Lesser Golden Plover and, occasionally, Oriental Pratincole. Rank grass holds Chestnut-capped Babbler, Yellow-bellied Prinia and Yellow-eyed Babbler.

Eastern Little Ringed Plover


Siberian Rubythroat

A major turn off at 2.4 kilometres provides access to the more southerly areas with many rice fields, between which many trails lead and most interesting when fallow. Generally the best habitat appears to be fallow fields with a mixture of stubble and/or weeds. Check these for Horsfield's Bush Lark, Oriental Skylark, Barred Buttonquail, Yellow-breasted Bunting, Pallas's Grasshopper Warbler and the like. In the evenings, groups of Chestnut-tailed Starling are often present, and raptors such as Rufous-winged Buzzard, Black-winged Kite, Pied Harrier and Eastern Marsh Harrier can be encountered.


Chestnut-tailed Starling


Black-collared Starling
Dusky Warbler is very common in overgrown waterways, which also hold Siberian Rubythroat. In thicker, drier vegetation Thick-billed Warbler is sometimes found. Pipits will likely include Red-throated Pipit, Richard's Pipit and Paddyfield Pipit, with Rosy Pipit a distinct possibility.
Returning to Thaton and heading east from town, several tracks can be found heading down to the northern bank of the river, including a well-marked one opposite the school 2.4 kilometres from town.
The gardens of resorts around town seem to hold a better concentration than usual of owls, with Eastern Barn Owl, Brown Hawk-Owl, Asian Barred Owlet and Collared Scops Owl all readily heard at night.
If coming from the south, a large area of paddies can be found along the western side of the Fang bypass, a couple of kilometres north of town. Without access to the river, irrigation systems are less developed here and the area contains more fallow fields, scrub and trees. Although not as yet explored, this area looks to have some potential and could be worth investigating for those with time to spare.
Checklist
Checklist of species.
Gallery
Additional images from Thaton available in the Thailand photo gallery.
Sunrise and Sunset
Detailed sunrise and sunset times.