Overview
Umphang Wildlife Sanctuary is sandwiched between Mae Wong and Khlong Lan national parks to the east, the Burma border to the west, and Thung Yai and Huay Kha Kaeng wildlife sanctuaries to the south. Together these areas form the heart of the protected western forest block in Thailand.

View across sanctuary from shrine

From a general tourist perspective Umphang Wildlife Sanctuary is best know for the Thi Lo Su Waterfall - the highest in Thailand. Birders however will be attracted to the possibilities of several western specialities which can be found here. Information on this page verified/accurate as of 26 Nov 2015.

Access

Due to its remoteness, or rather the lengthy drive required to get there, this site is rarely visited by birders or naturalists. With limited time, most choose Mae Wong National Park which is readily accessible. Despite only 20 kilometres, as the crow flies, separating Mae Wong from Umphang, the drive between is well over 350 kilometres.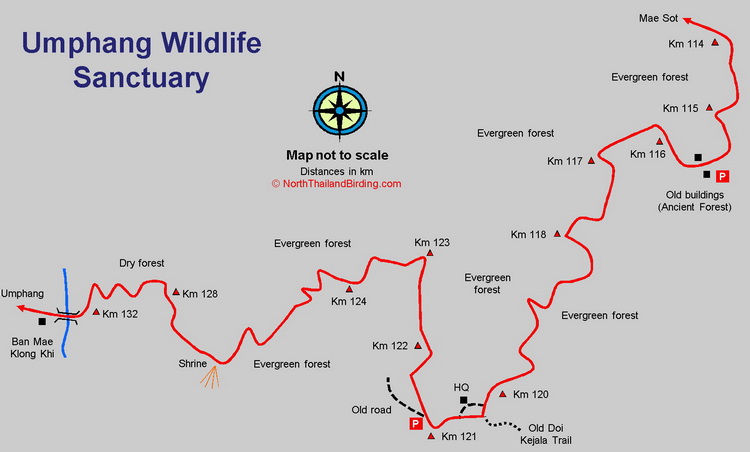 | | |
| --- | --- |
| From either Bangkok or Chiang Mai it's first necessary to drive to Tak. From Tak take Highway 12 westward 80 kilometres to Mae Sot, and from there Highway 1090 southward toward Umphang town. This road passes through the centre of the sanctuary, with the headquarters around the Km 120 marker. The sanctuary boundary is reached 88 kilometres after Mae Sot, but good evergreen forest does not appear until about 115 kilometres. As this is a winding mountain road the driving can be slow, and in the wet season landslides are not uncommon. From Bangkok the driving time is 8-9 hours, or from Chiang Mai 7-8 hours. The town of Umphang is reached 164 kilometres from Mae Sot, or about another hour after the sanctuary. | Landslide en route |
Accommodation and Facilities
As between Mae Sot and Umphang very few facilities are available, it's better to stock up with provisions from either Tak or Mae Sot. Fuel is available in Mae Sot and Umphang, but between it would be necessary to ask around to find any. Mobile phone coverage along the route is largely absent. Camping is possible at the sanctuary headquarters, but other than toilets no facilities are provided.
The closest accommodation, restaurants and stores can be found in Umphang, 44 kilometres south of the sanctuary headquarters. As Umphang is a tourist destination for trekkers, bikers and more adventurous tourists, a number of guesthouses and resorts can be found around town.
Birding
Although western specialities are shared with Mae Wong National Park, due to the accessible areas of forest being 300 metres higher in altitude, several are more easily found here. The biggest draw is probably Burmese Yuhina, but others of interest include Long-tailed Sibia and Black-throated Parrotbill. Unless prepared for a fully fledged trek, birding will be restricted to the road passing through the sanctuary. Those with a large amount of time could contemplate a trek to the summit of Doi Kejala, mid way between Umphang and the Mae Wong where Grey-bellied Wren-Babbler and Rusty-capped Fulvetta occur. This would require permission from the headquarters, some kind of guide and probably involve cutting some of the trail. Some lowland forest is presumably accessible around the waterfall attractions of the area and could make for interesting birding given time. The road through the sanctuary itself can be divided into four sections.

White-browed Scimitar Babbler


Coral-billed Scimitar Babbler


Black-throated Laughingthrush


Black-throated Parrotbill


Rufous-backed Sibia

Sanctuary boundary (Km 88) - Km 115

The biggest surprise on passing the sanctuary boundary at Km 88 from Mae Sot is that forest largely disappears to be replaced with a landscape more akin to farmland. As agricultural communities still live in the sanctuary, it appears forest close to the road has been removed, so this stretch is largely uninteresting for birding. No forest close to the road is accessible much before Km 114 when some evergreen starts to appear.

Km 115 - Km 121

By far the best looking evergreen forest is found between Km 115 and Km 121. The altitude of this six kilometre stretch undulates between 1,250 and 1,350 metres. It is along this stretch that birders should concentrate. The best tactic is simply to park and walk, although parking areas are rather limited due to the winding and narrow nature of the road. Three good parking areas can be found - one just before Km 116 at the old "Ancient Forest" buildings, a second just after the headquarters at Km 120, where the verges are wide, and a third after Km 121 where an old road cutting is found. A concentrated effort over a couple of days should find resident species such as Mountain Imperial Pigeon, Red-headed Trogon, Great Barbet, White-browed Piculet, Long-tailed Broadbill, Clicking Shrike-babbler, Davison's Leaf Warbler, Chestnut-crowned Warbler, Collared Babbler, Rufous-backed Sibia, Long-tailed Sibia, Burmese Yuhina, Rufous-browed Flycatcher, Coral-billed Scimitar Babbler, Orange-headed Thrush, Large Niltava and Small Niltava. Both Streaked Spiderhunter and Little Spiderhunter are extremely numerous here. Northern White-crowned Forktail also occurs at a high density and is frequent along the road edges, and both Rusty-naped Pitta and Rufous-bellied Eagle occur.

Km 121 - Km 128

This stretch contains evergreen forest at a slightly lower altitude, dropping from 1,250 metres at Km 121, to 1,000 metres at Km 128, after which evergreen forest is replaced by dryer forest. Being slightly lower, the species composition changes with species such as Olive Bulbul, White-throated Bulbul, Striated Yuhina, Maroon Oriole, Barred Cuckoo-Dove, Little Cuckoo-Dove and Blue-bearded Bee-eater being more likely

Km 128 - Km 132

The final four kilometres descend fairly steeply though dryer forest to exit into farmland at Km 132 by the river at the village of Ban Mae Klong Khi at an altitude of 600 metres. Time spent here would no doubt be rewarding, especially in the dry season when a good number of migrants should be available.

Checklist

Checklist of species.

Sunrise and Sunset

Detailed sunrise and sunset times.