Introduction
The high proportion of endemic and Polynesian species makes Fiji a rewarding birding destination. Food, accommodation, and transportation are all easily obtained, the country is hassle-free, and the Fijians friendly.
Flights and Getting there
Fiji makes a good stopping-off point between Australasia and America, and is often available on round-the-world air tickets.
Visas and Health
Visas are not required for holders of British, American, and most European passports. A permit to stay for one month is granted on entry to the country. Health problems are minimal, and all the islands are free of Malaria.
Accommodation
In tourist areas, a wide range of accommodation in an equally wide price range is available. In more remote areas, local guest houses and hotels are readily available. Prices in general are cheaper than Europe, but do not expect the very low prices often encountered in parts of Asia or South America.
Travel and Getting Around
The international airport on Viti Levu island is at Nadi (pronounced Nan-di), which lies on the opposite side of the island to the capital Suva. Local buses take about six hours to do the journey. A better option is the 'express' buses that do the journey in about 3 hours, or the shared taxis which are a little quicker. Internal flights, all of which operate to and from Viti Levu only, are handled by two companies: Sunflower Airlines who operate from Nadi Airport, and Air Fiji who operate out of a domestic airport at Nausori near Suva. (Not to be confused with the Nausori highlands that are near Nadi!). Daily flights operate to Taveuni and Vanau Levu islands, but only twice weekly to Kadavu.
Reasonably priced hire cars, from the usual companies, are available on the main islands of Viti Levu and Viti Vanau. These can be dropped off at many of the numerous tourist complexes around the coast. The main road around Viti Levu is of remarkably good quality. However, roads in the interior are poor, most impassable to two-wheel drive in the wet. Four-wheel-drive rentals are available. There are plenty of buses and taxis. On the smaller islands it is necessary to travel by public transport.
Language
Although Fijian is the official national language, the existence of so many different ethnic groups, plus the history of Fiji as a British colony has lead to English being well established and widely spoken.
Money
The unit of currency is the Fiji Dollar ($F). Cash or travellers cheques in most currencies can be changed at any bank. The exchange rate appears to be government controlled, and the same everywhere. The most convenient place to change money is Nadi International Airport, as it is open for all international arrivals and departures. Although the Fijian dollar has been dropping steadily against other currencies over the last few years, no black market in foreign exchange was obvious.
Climate and When to go
The climate is not uniform throughout the islands. The northwestern side of each island is dry and sunny, and consequently has most of the tourist resorts. The prevailing winds are from the south-east, and this side of the islands is rarely dry. Even in August, a dryer part of the year, you can expect rain in Suva. I lost two days birding due to heavy rain, and you should make allowance in your itinerary for at least a couple of days lost to poor weather. The cooler, dryer months are between June and October. Note that between November and May there is the possibility of hurricanes which could rather restrict your birding.
Itinerary and Suggestions
Ten to fourteen days are ideal to bird the three main islands of Viti Levu, Taveuni and Kadavu, during which time the majority of the endemic species should be found. Another week would be better, and would give an opportunity to look for some of the seabirds occurring in the surrounding waters, as well as the possibility to visit more remote islands. Birding on Viti Levu can be based from two areas: Nadi in the northeast, to cover the Nausori Highlands, and Suva in the southeast, from which Joski's Thumb and Colo-i-Suva can be visited. Based on my own experience of a trip I would recommend the following itinerary.
Start with two days in the Nausori Highlands followed by three days on Taveuni, or vice versa. Taveuni probably has the greatest variety of specialities, though both sites need to be visited. Next spend two days on Kadavu and lastly visit the Suva area, where hopefully only a couple of species will be required.
The species to concentrate on at each locality are:
Taveuni for Silktail, Orange Dove, and Red-throated Lorikeet. You also should see Red Shining Parrot,
Fiji Shrikebill, Black-faced Shrikebill, and Slaty and Blue-crested Flycatchers.

Nausori Highlands for Many-coloured Fruit-Dove, Golden Dove, White-throated Pigeon and Masked
Shining-Parrot. Black-faced Shrikebill is a good possibility.

Kadavu for Whistling Pigeon, Kadavu Fantail and Kadavu Honeyeater.

Joski's Thumb for Pink-billed Parrotfinch and Golden Dove.

Collo-i-Suva for Shy Ground-Dove, Fiji Shrikebill, Black-faced Shrikebill and possibly pigeons and
Pink-billed Parrotfinch.

Other species such as Fiji Goshawk, Collared Lory, Fiji Bush-Warbler, Polynesian Triller, Polynesian Starling, Giant Forest-Honeyeater and Layard's White-eye are fairly widespread, and require no special effort to find. Note that Rotuma island lying 200 miles to the northwest of the main archipelago is politically part of Fiji and has the endemic Rotuma Honeyeater. Of the four Red Data Book species (Collar and Andrew 1988), Fiji Petrel, Bar-winged Rail, Long-legged Warbler, and Pink-billed Parrotfinch, only the later would be possible to find on a brief visit. The others are known only from a few specimens or from extremely remote areas.
Dr. F. Cunnie, the director of the Fiji Museum in Suva, appears to be the only resident birder on Fiji, and is extremely knowledgable on Fijian birds. Fiji has a list of only about 120 species (including vagrants). As the 86 breeders include seabirds on the remote islands, the number of species expected to see in a two week trip will be limited.
References
Alden, P., and Gooders, J. (1981). Finding birds around the World. Andre Deutsch. A basic
overview of birding opportunities on Fiji.
Clements, J. (1981). Birds of the World: A Checklist. Facts on File, USA. The 1991 update is now
available.
Collar, N.J., and Andrew, P. (1988). Birds to Watch. ICBP, Cambridge. UK. Useful summary of
current status of each threatened species.
Cunnie, F. Birds of the Fiji Bush. Locally published. Available at the Fiji Museum in Suva,
or local bookshops. Depicts most Fijian specialities, and very useful if the Pratt reference is not available.

Kay, B. (1986). Fiji - A travel survival kit. Lonely Planet Publications. An invaluable travel guide
providing details of transportation, food and accommodation for each island.
Pratt, H.D., Bruner, P.L., and Berrett, D.G. (1987). The Birds of Hawaii and the Tropical Pacific.
Princetown. This new book illustrates all specialities of the area with accurate text, distribution data and island checklists. Full details for each species cover identification, distribution, habitat, habits etc., though space has been saved by omitting lengthy accounts of species commonly described in popular field guides. The only book required for the Pacific.
Richards, J., and Richards, L. (1986). Fiji Trip April 1986. Unpublished trip report.
The Birding Sites
Nausori Highlands, Viti Levu Island 
This area was visited on the strength of its write-up by Allen and Gooders (1981), and while I would not agree with their description "fine tropical forest" the area held some excellent birds and was especially good for pigeons and doves. The easiest way to get there is to hire a taxi or car from Nadi Airport. The road, mainly gravel and dirt is in terrible condition, but passible by two-wheel-drive vehicle. As you can average only about 20 km/hr, it takes well over an hour to get to the forested areas. Leaving Nadi, the habitat is farmland with sugar cane fields. As the road climbs into the hills there are some excellent views.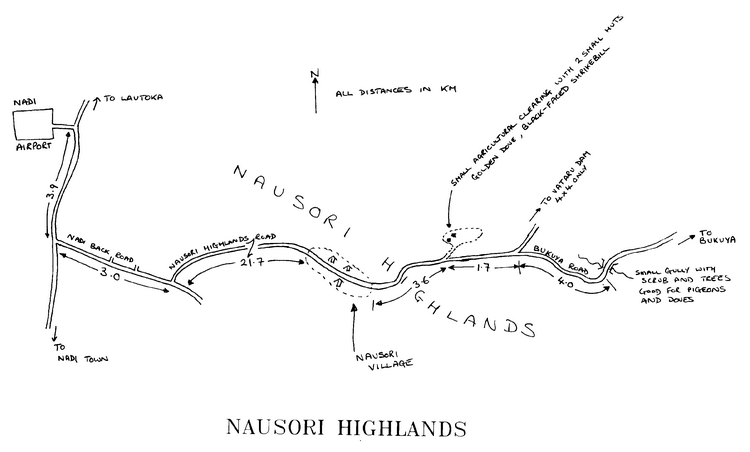 Farther along the habitat changes to grassland interspersed with forest remnants and small plantations of pine trees. Once past Nausori village there are hacked-over forest patches along the road that hold the birds of interest. No food, drink or accommodation are available, but it would be easy to pitch a tent for the night. Two of the better areas found, just past the village, are marked on the map.
Red-footed Booby 1
Lesser Frigatebird 10
Pacific Reef Heron 20
Swamp Harrier 3
Pacific Golden Plover 10
Wandering Tattler 90
Ruddy Turnstone 13
Bar-tailed Godwit 34
Crested Tern 70
Feral Pigeon C
Spotted Dove C
Collared Lory 8


White-rumped Swiftlet 10
Sacred Kingfisher 1
Pacific Swallow 20
Red-vented Bulbul C
White-breasted Wood-Swallow
Common Myna C
Jungle Myna C
Wattled Honeyeater 30
Silvereye 6
Red Avadavat 60
Java Sparrow 6
Thurston Botanical Gardens, Suva, Viti Levu Island
As throughout my time in Suva, the annual 'Hibiscus Carnival' was being held in the park right next to the botanical gardens, I never really had a good look there. Besides the common species, Fiji Goshawk, Many-coloured Fruit-Dove and Java Sparrow occur.
Colo-i-Suva Forest, Viti Levu Island
This forest park and water catchment area about 11 km to the north of Suva lies at about 200 metres altitude. Drive or take public bus number 26 (Sawani) from the Suva bus station. Some thefts have occurred in this area recently, so it is better not to take money, passports or valuables with you. Signs warn visitors, who may leave valuables with the forest department staff. I had no problems and saw nobody while in the forest.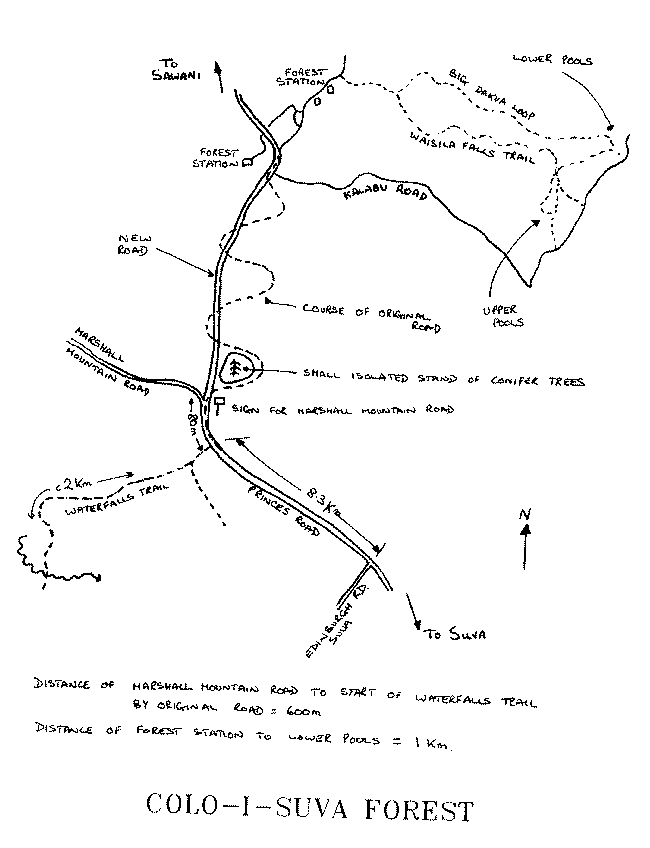 The two main areas to bird are the park proper with its well made trails and paths, and a track through the forest which starts about 500 metres before the park, and leads to some waterfalls. Due to the heavy rainfall in this area of Fiji this 'Waterfall Track' is very muddy and slippery. I had time only to do the 'Waterfall Track' in the morning before heavy rain forced my return to Suva.
Peale's Pigeon 3
Masked Shining-Parrot 4
White-rumped Swiftlet 2
Pacific Swallow 1
Scarlet Robin 1
Golden Whistler 3
Fiji Shrikebill 5
Black-faced Shrikebill 3
Slaty Flycatcher 5
Blue-crested Flycatcher 8


Streaked Flycatcher 10
Fiji Bush-Warbler 8
Island Thrush 3
White-breasted Wood-Swallow 2
Orange-breasted Honeyeater 4
Wattled Honeyeater 4
Giant Forest Honeyeater 6
Layard's White-eye 20
Red-headed Parrotfinch 1
Joski's Thumb, Viti Levu
The only information I had for Joski's Thumb was that it is probably the best place to find the Pink-billed Parrotfinch. The 'thumb' is an enormous volcanic plug that dominates the landscape about 15 kilometres from Suva. Take the main highway west from Suva, and look for the turning to Orchard Island Resort, on the right about 12 kilometres from Suva. Five kilometres farther a dirt track on the right leads to the 'thumb'. The road to the diary and the area around the diary farm is supposed to be worth exploring, but this road was not passable and the weather cut short my time here. In the village you can hire a guide who can take you through the forest all the way to the thumb. The forest looks good, and the trek would undoubtably take all day. I followed the trail until it disappeared into the river. Even in the short time there I saw some good birds.

Pacific Black Duck 1
Swamp Harrier 2
Golden Dove 1
Peale's Pigeon 20
Collared Lory 2
Masked Shining-Parrot 2
White-rumped Swiftlet 10
Sacred Kingfisher 2
Polynesian Triller 20
Golden Whistler 2
Slaty Flycatcher 5
Vanikoro Flycatcher 4
Blue-crested Flycatcher 3
Streaked Flycatcher 4
Fiji Bush-Warbler 4
Orange-breasted Honeyeater 7
Wattled Honeyeater 10
Giant Forest Honeyeater 3
Layard's White-eye 20
Red-headed Parrotfinch 20
Mana Island Cruise
This is a well publicised island resort 20 kilometres offshore from Nadi. The Island Express cruise boat departs twice daily from the Hyatt Regency in Nadi. I thought it might produce some good seabirds, but only saw four Brown Boobies. However the island is well worth the trip, with great snorkelling and diving.
Central Viti Levu Island
The best forest is supposed to be at Monasuva Dam. Maybe a better site for Red-collared Lorikeet could be found there.
Transmitter Station Road, Taveuni Island
This small island in the southeast of the archipelago, has probably the greatest range of species, and is the best place to start a trip. Daily flights are available from both Nadi and Nausori. From the airport, at the northwestern tip of the island, the sole road on the island runs anti-clockwise around the island, not quite completing the circuit. Buses and taxis are easy to find.

The best places to stay are the International (formerly Castaways) Hotel (expensive) or Kaba's guest house. Kaba's has recently built several motel units which are two-person self-contained units with private bathroom and kitchen. For F$20 per night these were really excellent. The only restaurant facilities are at the International Hotel, though as the place was closed for renovation while I was there, I did my own cooking. Kaba's has a very well stocked supermarket, so it's not necessary to bring any food with you. An Indian take-away next to Kaba's was awful. Note that no alcohol is sold after 13:00 on Saturdays until Monday. About four kilometres past Somosomo you cross the international dateline (The only road in the world to do so).
The best birding on Taveuni is the winding dirt road from the telecom transmitter station on Des Veau Peak (3,650 feet) down to Somosomo town. It's about eight kilometres from top to bottom, so arrange for a lift up in the morning and spend the day walking down. After the first couple of kilometres the road is only passable to four-wheel drive. Kaba's have a jeep and will take you to the summit for F$30. Alternatively you could visit the telecom office and try to hitch a lift with any workers going to work on the transmitter. Take trousers, pullover and an umbrella for the top, as it will be cold and/or wet. The weather at the top was poor on both days I spent there, but the views should be excellent when the weather clears. Additionally I spent an afternoon along the coastal road between Kaba's and the International Hotel, which has some reasonable scrub.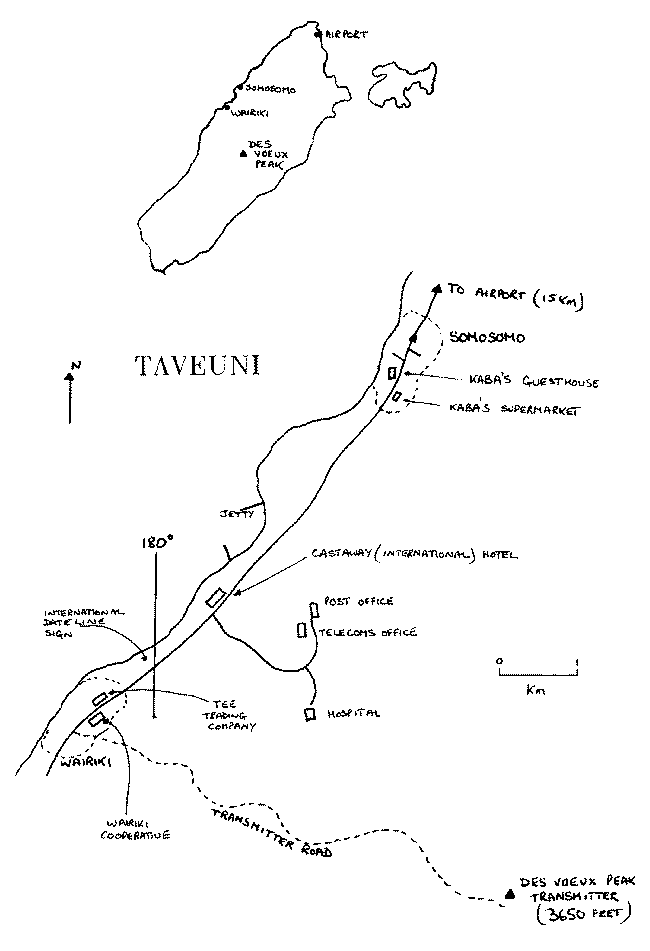 Species observed along the Transmiter Road:
Fiji Goshawk 7
Red Junglefowl 2
Orange Dove 3
Peale's Pigeon 30
Collared Lory 10
Red Shining Parrot 35
White-rumped Swiftlet 35
Polynesian Triller 20
Scarlet Robin 5
Golden Whistler 6
Fiji Shrikebill 6
Slaty Flycatcher 5
Vanikoro Flycatcher 4


Blue-crested Flycatcher 5
Silktail 2
Streaked Flycatcher 14
Fiji Bush-Warbler 13
Island Thrush 7
White-breasted Wood-Swallow 4
Polynesian Starling 21
Orange-breasted Honeyeater 45
Wattled Honeyeater 40
Giant Forest Honeyeater 2
Layard's White-eye 25
Silvereye 10
Red-headed Parrotfinch 2
Species observed along the coastal road:
Brown Booby 200
Red-footed Booby 6
Lesser Frigatebird 15
Pacific Reef Egret 2
Pacific Black Duck 2
Fiji Goshawk 2
Crested Tern 4
Spotted Dove 3
Feral Pigeon 2
Collared Lory 6
Red Shining Parrot 3
White-rumped Swiftlet C


Sacred Kingfisher 1
Pacific Swallow 4
Australian Magpie 3
Polynesian Triller 4
Vanikoro Flycatcher 6
Fiji Bush-Warbler 8
White-breasted Wood-Swallow 6
Polynesian Starling 4
Common Myna 50
Orange-breasted Honeyeater 10
Silvereye 6
Kadavu Island
Three specialities can be found only here; Whistling Dove, Kadavu Fantail and Kadavu Honeyeater. Flights to Kadavu operate Mondays and Thursdays from Nausori and Fridays and Sundays from Nadi. Accommodation is available at Reece's Place on the adjacent island of Ngalao, just a short boat-ride away. Reece's costs F$25 per day including all meals. For the best birding, take a boat back to Kadavu and explore the area around Waikana Falls.
Systematic List
Nomenclature and sequence follow Pratt, Bruner and Berrett (1987).
Brown Booby Sula leucogaster
One group of 200+ feeding offshore, Taveuni (18/8) and 4 resting on buoys at the entrance to Mana Island (25/8).
Red-footed Booby Sula sula
Six feeding in with the above, offshore Taveuni (18/8).
Lesser Frigatebird Fregata ariel
At least 15+ daily (18-21/8) along the coastal road of Taveuni, and up to 10 daily along the Suva waterfront (21-23/8).
Pacific Reef Heron Egretta sacra
A total of 26, Taveuni coastal road (18-21/8) and Suva waterfront (21-23/8). The majority, about 80%, were black-phase birds.
Pacific Black Duck Anas superciliosa
Two on two occasions, Taveuni coastal road (18-19/8) and a single, Joski's Thumb (23/8).
Swamp Harrier Circus approximans
One or two daily in Nausori Highlands (16-17/8), Suva (21-23/8), and Joski's Thumb (23/4).
Fiji Goshawk Accipiter rufitorques
Two Nausori Highlands (17/8), and up to 3 daily on Taveuni (18-20/8).
Red Junglefowl Gallus gallus
Two heard from lower elevations along the Taveuni transmitter road (20/8).
Pacific Golden Plover Pluvialis fulva
A maximum of eight, Suva Point (21/8).
Wandering Tattler Heteroscelus incanus
Up to 50+ daily along Suva waterfront (21-23/8).
Ruddy Turnstone Arenaria interpres
A total of 13 on two occasions, Suva waterfront (21-22/8).
Bar-tailed Godwit Limosa lapponica
Suva waterfront, 20 (21/8), and 14 (23/8).
Crested Tern Sterna bergii
Four birds, Taveuni coastal road (18/8). Up to 50 daily Suva (21-23/8), and 30+ Mana Island cruise (25/8).
Feral Pigeon Columba livia
Common in Suva. Only two noted on Taveuni (18/8).
White-throated Pigeon Columba vitiensis
A total of six in Nausori Highlands (16-17/8). Juveniles and/or immatures have only the cheeks white and a completely dark bill.
Spotted Dove Streptopelia chinensis
Common in Suva (21-23/8), up to 10 daily in Nadi (16-18/8), and three, Taveuni coast road (18/8).
Many-coloured Fruit-Dove Ptilinopus perousii
A total of 45+ in Nausori Highlands (16-17/8).
Golden Dove Ptilinopus luteovirens
Two singles and a pair in Nausori Highlands (16/8), and a single _, Joski's Thumb (23/8).
Orange Dove Ptilinopus victor
Three at mid to high elevations along Taveuni transmitter road (19/8).
Peale's Pigeon Ducula latrans
Fairly common in Nausori Highlands (16-17/8), Taveuni transmitter road (19-20/8), Collo-i-Suva (22/8), and Joski's Thumb (23/8).
Collared Lory Phiygs solitarius
Fairly common in all habitats. Seen daily (16-25).
Red Shining Parrot Prosopeia tabuensis
Fairly common at low elevations on Taveuni (18-20/8).
Masked Shining Parrot Prosopeia personata
Common in Nausori Highlands, with 20+ daily (16-17/8). Also recorded at Collo-i-Suva, 4 (22/8) and Joski's Thumb, 2 (23/8).
White-rumped Swiftlet Aerodramus spodiopygius
Common in all areas.
Sacred Kingfisher Halcyon sancta
Three in Nausori Highlands (16-17/8), and singles, Taveuni coast road (18/8), Suva (22/8) and Joski's Thumb (23/8). I have followed Pratt, Brunner and Berrett in considering Fijian 'collared' Kingfishers as N. sancta and not H. chloris as all previous works have. This had been done mainly on the rusty coloured plumage of Fijian birds. However on Viti Levu at least one individual, observed at close range, had pure white underparts with no trace of rusty colour.
Pacific Swallow Hirundo tahitica
Four, Taveuni coast road (18/8). A single, Collo-i-Suva (22/8), and 20+ along the route between Suva and Nadi (24/8).
Australian Magpie Gymnorhina tibicen
Three along the coastal road in Taveuni (18/8).
Polynesian Triller Lalage maculosa
Common in Nausori Highlands (16-17/8), Taveuni transmitter road (19-20/8), and Joski's Thumb (23/8).
Red-vented Bulbul Pycnonotus cafer
Common around Nadi (16-17/8), and Suva (21-23/8).
Scarlet Robin Petroica multicolor
Five, Nausori Highlands (16-17/8), five, Taveuni transmitter road (19-20/8) and one, Collo-i-Suva (22/8).
Golden Whistler Pachycephala pectoralis
Six, Taveuni transmitter road (19-20/8), 3 Collo-i-Suva (22/8), and 2 Joski's Thumb (23/8).
Fiji Shrikebill Clytorhynchus vitiensis
At least 6 Taveuni transmitter road (19-20/8) and 5 Collo-i-Suva (22/8). Despite its name this bird is not endemic to Fiji.
Black-faced Shrikebill Clytorhynchus nigrogularis
Three in Nausori Highlands (16-17/8), and 3 heard at Collo-i-Suva (22/8). Difficult to see, but responds to an imitation of its whistling call.
Slaty Flycatcher Mayrornis lessoni
A total of 5 Taveuni transmitter road (19-20/8), 5 Collo-i-Suva (22/8), and 2 Joski's Thumb (23/8).
Vanikoro Flycatcher Myiagra vanikorensis
Fairly common in Nausori Highlands (16-17/8), Taveuni (19-20/8) and Joski's Thumb (23/8). A single Mana Island (24/8).
Blue-crested Flycatcher Myiagra azureocapilla
A total of 5 along the Taveuni transmitter road (19-20/8), 8 Colo-i-Suva (22/8) and 3 Joski's Thumb (23/8).
Silktail Lamprolia victoriae
Two singles at higher altitudes, Taveuni transmitter road (19-20/8).
Streaked Fantail Rhipidura spilodera
Fairly common in all forest.
Fiji Bush-Warbler Cettia ruficapilla
Fairly common in most forest and scrub habitats.
Island Thrush Turdus poliocephalus
Taveuni transmitter road, 7 (19-20/8), and 3 Collo-i-Suva (22/8).
White-breasted Wood-Swallow Artamus leucorhynchus
Common in Nausori Highlands (16-17/8). Up to 6 daily at low altitudes on Taveuni (18-20/8), and several in lowlands around Nadi and Suva.
Polynesian Starling Aplonis tabuensis
Fairly common in the Nausori Highlands (16-17/8), and along the Taveuni transmitter road (19-20/8).
Common Myna Acridotheres tristis
Common in lowlands of all areas.
Jungle Myna Acridotheres fuscus
Common in the lowlands of Viti Levu. Some in villages higher up in the Nausori Highlands (16-17/8).
Orange-breasted Honeyeater Myzomela jugularis
Common in all areas.
Wattled Honeyeater Foulehaio carunculata
Common in all areas.
Giant Forest-Honeyeater Gymnomyza viridis
Fairly commonly heard in Nausori Highlands (16-17/8). Two, Taveuni transmitter road (19/8), 6 Collo-i-Suva (22/8), and 3 Joski's Thumb (23/8).
Layard's White-eye Zosterops explorator
Fairly common in forest.
Silvereye Zosterops lateralis
Fairly common in Nausori Highlands (16-17/8), and on Taveuni (18-20/8). Only 6 in the Suva area (21/8).
Red Avadavat Amandava amandava
Common in the lowlands of Viti Levu.
Red-headed Parrotfinch Erythrura cyaneovirens
Common in Nausori Highlands (16-17/8). Two, Taveuni transmitter road (20/8), 1 Collo-i-Suva (22/8) and 6 Joski's Thumb (23/8).
Java Sparrow Padda oryzivora
Six on two occasions in Suva near the Thurston Botanic Gardens (22-23/8).