Overview
This trip report is divided into three parts:

Part 1 - The Pitcairns (Pitcairn, Henderson and Oeno).
Part 2 - The southern Tuamotus (Teneraro and Morane), Mangareva, Tetiaroa, and Tahiti.
Part 3 - The Marquesas, the northern Tuamotus and Moorea.
Dates:
Weather:


Localities:

1 September - 9 October 2013.
Variable. Mostly dry, hot to cool and partly cloudy. Windy at sea, sometimes strong. Cold around Pitcairn Islands with sea temperature at 20°C, but warming farther west to 23°C. Hot on Tahiti, the Marquesas and northern Tuamotus. Occasional rain showers.
Tahiti, Mangareva, Pitcairn, Henderson, Oeno, Teneraro, Morane, Tetiaroa, Nuka Hiva, Hatutu, Ua Huka, Tahuata, Mohotani, Fatu Hiva, Manihi, Rangiroa, Niau, Makatea and Moorea.

With Hemme Batjes, Jan-Joost Bouwman, Elaine Cook, Mike Danzenbaker, Jannie Donnan, David Fisher, Bob Flood, Phil Hansbro, Steve Howell, Josep del Hoyo, Dolors del Hoyo, Ron Johns, Sue Johns, John Lobel, Peter Maaskant, Kenneth Petersen, Chris Quispel and Kirk Zufelt.
| | |
| --- | --- |
| | The original plan, for this privately arranged trip, was hatched between several of the participants during a previous voyage within remote Indonesia in 2011. Logistically, pulling this together was far from straightforward, and much thanks goes to Josep del Hoyo and Amy Chernasky for their considerable efforts in this respect. The trip was divided into three parts. The first leg started in Mangareva and covered the islands within the Pitcairn group - Pitcairn, Henderson and Oeno - plus the southern Tuamotu islands of Teneraro and Morane. The second leg, based in Tahiti, covered Tahiti and Tetiaroa whilst the ship was repositioned to the Marquesas. The third leg visited the Marquesan islands of Nuka Hiva, Hatutu, Ua Huka, Tahuata, Mohotani, Fatu Hiva, Manihi, Rangiroa, Niau and Makatea, and finally finishing on Moorea. Due to the length of the trip, participants varied between each leg. The ship used was the Braveheart out of New Zealand that, other than stupidly low ceilings and beams regularly decapitating the participants - having been constructed in Japan - was excellent. Our superb crew was made up of Matt the captain, Miles, Elliot, Shaun and John. |
The region is characterised by huge expanses of ocean, few native passerines, isolated, beautiful, islands and atolls. The trip was highly successful in observing all the extant endemic species of French Polynesia and the Pitcairns, with the exception of Rimatara Reed Warbler and Kuhl's Lorikeet on Rimatara, and Rapa Fruit Dove on Rapa, as neither were visited as part of the trip. Several participants added a successful side trip to Rimatara for those two endemics, where easily found. Access to Rapa, being so remote and only accessible by ship required too much time and expense to include.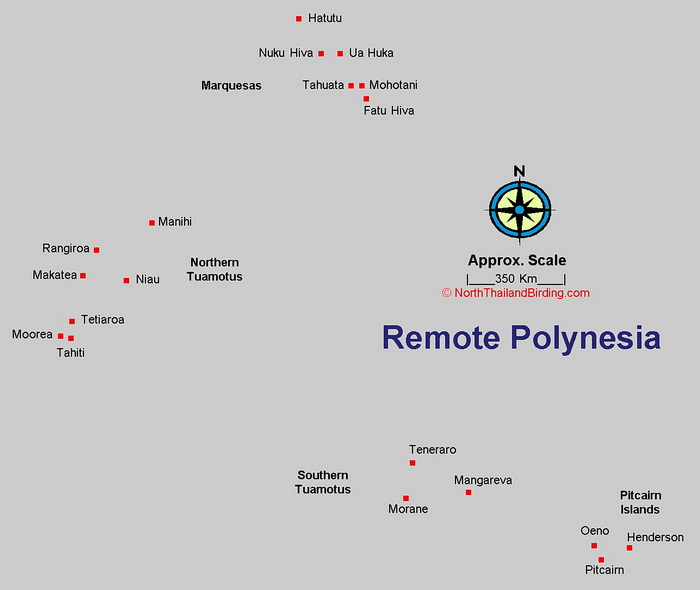 Itinerary (Part 1)
31 Aug. Thai Airways from Bangkok to Auckland went very smoothly, arriving mid day the following day.

1 Sep. Overnight close to the airport at the Jet Park Hotel which, although not the cheapest accommodation in the area, was quiet, clean, efficient and can be recommended for a layover. Around the hotel only the usual suspects seen such as Australasian Swamphen, Welcome Swallow, Red-billed Gull, Kelp Gull and Great Cormorant, together with a host of introductions including Common Myna, Song Thrush, House Sparrow, Eurasian Greenfinch, Eurasian Skylark and Common Starling.

2 Sep. Air New Zealand flight from Auckland to Tahiti. Check-in at Auckland was slightly chaotic given Air New Zealand's penchant for enforcing hand baggage to 7 Kg - resulting in manic repacking at the counter. For some reason, even though the flight was far from full, was given a upgrade to Economy Plus which meant stacks of legroom. Having crossed the dateline, arrived on 1 September. Walked across the road, and steeply uphill, to the Tahiti Airport Motel. Unfortunately, being a Sunday all shops and restaurants in the vicinity were closed, with only the fuel station open for basics; but which unfortunately didn't include the most basic of essentials - beer.


Red-billed Gull


Australasian Swamphen
2 Sep. Got to live this day again. A catch up on sleep, plus Internet access working far superiorly here than in Auckland. Morning taken up with bus to town to obtain a local SIM card, for which a passport was required. A few birds around the airport and town included Great Frigatebird and Common White Tern as natives, plus Zebra Dove, Red-vented Bulbul and Common Myna on the introduction side.
3 Sep. An early check-in at Air Tahiti for the weekly flight to Mangareva in the Gambier Islands. Plenty of grief with baggage due to their unrealistic hand baggage restriction of only 3 Kg with shorter than standard hand baggage dimensions. In short, a great way to collect excess charges from birders! Being an ATR turboprop, the flight from Papeete to Mangareva took almost four hours including a short stop at the isolated atoll of Tureia. As Mangareva island itself has no level area, the airfield is located on a nearby atoll, a 30 minute ferry ride away from the main village of Rikitea. By the time we'd reached the Braveheart, loaded-up and were finally underway, the time was well past 16:00. Finally, after more than three days from home, back in the field. A few seabirds around Mangareva included Common White Tern, Greater Crested Tern, Great Frigatebird and some distant unidentified petrels over the mountains that were probably Kermadec Petrel. Our first stop was just off the small islet of Motuteiku where we hung around till dark seeing a fair number of Christmas Shearwater and Tropical Shearwater coming to their burrows. All night sailing toward Pitcairn. As the Braveheart was originally built in Japan as a research vessel it took some getting used to the 1.8 metre ceilings requiring walking around the vessel in a permanent stoop, with several nasty knocks on heads from beams, light fittings and ceilings. Short bunk beds too.

Murphy's Petrel


Parkinson's Petrel


Soft-plumaged Petrel

4 Sep. Dawn started with an early shout of Polynesian Storm Petrel, that certainly resulted in getting everyone out of bed and on deck. The whole day spent steaming eastward toward Pitcairn, with seabirding slow and steady; the most common species being Murphy's Petrel as well as a few Soft-plumaged Petrel. Around 09:30 did some chumming for three hours but little new seen other than a fly through Pacific Golden Plover, and an unidentified Kermadec/Herald Petrel. Just as we were about to leave, excitement in the form of a Titan Storm Petrel appeared. This, the titan form of White-bellied Storm Petrel, a rarely recorded taxon, breeds on Rapa Island, is morphologically distinct and massively greater in size than other forms and clearly constitutes a different species. Continued to head east with increasing winds and a good roll on the ship.

5 Sep. Arrived at Pitcairn just on daybreak, which this far east is a further hour later due to a time change from Mangareva. Birds active near the shore were Red-tailed Tropicbird, Christmas Shearwater, Grey Noddy, Common White Tern, Great Frigatebird and Masked Booby. At 08:00 the Islander's longboat took us ashore where immigration proved to be surprisingly bureaucratic for an isolated island with only 45 inhabitants, requiring both customs and immigration declaration forms to be completed upon which a ten day permit to stay is granted - all for a cost of $85, including Henderson and Oeno island landing fees. It took less than a ten minute stroll up the hill to find the island's only passerine, the Pitcairn Reed Warbler. The rest of the morning spent walking the tracks around town and the Eco Trail, finding more of the same, followed by an interesting talk from researchers working on the failed rat eradication project on Henderson. A great lunch at Christian's Café, after which we took quad bikes around the island to various viewpoints and historical spots. Some impressive scenery, but savage winds on exposed peaks. By 17:00 we were back at the ship where the winds and heavy seas made transferring to the ship really dangerous, so a relief that everyone managed to transfer without injury or incident.
6 Sep. Strong winds and rough seas through the night. By dawn we'd moved to Forty Mile Reef, a sea mount area 40 nautical miles southeast of Pitcairn, where we spent most of the morning chumming, whilst clinging to the boat in a good six metre sea. Strong winds continued, with the moving boat making viewing conditions, and especially photography, difficult. A good number of Pterodroma species - Henderson Petrel, Kermadec Petrel, Murphy's Petrel and Herald Petrel. Other birds included Common White Tern, Polynesian Storm Petrel, White-faced Storm Petrel, Parkinson's Petrel and a single White-headed Petrel. Mid afternoon we started toward Henderson with sea conditions and birds much the same.

Bristle-thighed Curlew


Grey Ternlet


Henderson Fruit Dove


Masked Booby

7 Sep. Arrived at Henderson around 02:30. Good to be able to anchor near the leeward northern shore and finally have the ship not pitching and rolling. At dawn, we undertook a short seawatch off the northwestern corner of the island. Plenty of Henderson Petrel and a few Herald Petrel. High tide made getting onto the beach straightforward, from where we walked the grid trails. Very convenient that researchers had recently cleared these trails, which being on uplifted coral are razor sharp on shoes and feet. It took less than two hours to obtain good views of the four land endemics - Henderson Crake, Henderson Reed Warbler, Henderson Fruit Dove and Stephen's Lorikeet. Plenty of seabirds overhead with warm and pleasant weather - pretty much a perfect day's birding. After lunch on the beach, strolled along the shore photographing nesting seabirds. Fantastic to be in a place where wildlife has no fear of humans. Unfortunately the island is once again swarming with Polynesian Rat Rattus exulans - the recent eradication project of July to November 2011 having failed. Evening barbecue on the boat anchored offshore.


Common White Tern


Henderson Crake


Henderson Reed Warbler


Red-tailed Tropicbird
8 Sep. Onto the shore of Henderson just after first light. All morning along the beach trying mainly to improve on photos from yesterday. The only additional species was Wandering Tattler. Left the island at 14:30 and headed toward Oeno, on quite a swell and a stiff westerly wind.
9 Sep. By day break around 20 nautical miles east of Oeno. A chumming session for three hours produced very little other than a few Murphy's Petrel, Herald Petrel, Kermadec Petrel and a couple of White-faced Storm Petrel; the main highlight being a flyby Phoenix Petrel. Arrived at the beautiful atoll of Oeno around 12:30 with the remainder of the day walking the three kilometre circumference of this rat-free island. Good breeding numbers of Murphy's Petrel, Great Frigatebird, Common White Tern, Red-tailed Tropicbird and Red-footed Booby. Other species in small numbers were Sooty Tern, Brown Noddy, Black Noddy, Bristle-thighed Curlew, Phoenix Petrel and Wandering Tattler. Overnight at anchor.

Common White Tern


Kermadec Petrel


Polynesian Storm Petrel


Common White Tern


Red-footed Booby (white morph)


Murphy's Petrel

10 Sep. Onto Oeno at first light. All morning spent near the small Sooty Tern colony hoping for Spectacled Tern, seen by a lucky few yesterday, but to no avail. Left at midday for the long cruise to Teneraro in the southern Tuamotus. Afternoon on the back of ship with small numbers of Murphy's Petrel, Herald Petrel and Kermadec Petrel.

11 Sep. All day steaming toward Teneraro. Stopped mid ocean over a shallow reef for a few hours chumming. Several Grey Reef Shark. Bird-wise rather barren with only a few individuals of Polynesian Storm Petrel, White-faced Storm Petrel, White-chinned Petrel and Murphy's Petrel. The rest of the day with birds low on numbers but high on quality with Tahiti Petrel, Tropical Shearwater, Polynesian Storm Petrel, White-tailed Tropicbird and White-chinned Petrel. Another night continuing to the northwest.
Part 1 - The Pitcairns (Pitcairn, Henderson and Oeno).
Part 2 - The southern Tuamotus (Teneraro and Morane), Mangareva, Tetiaroa, and Tahiti.
Part 3 - The Marquesas, the northern Tuamotus and Moorea.
Galleries
Bird images from this, and other, birding trips here.
Scenic, people, places and travel images from this trip here.
Species List (Part 1)
Taxonomy and nomenclature follow IOU/IOC World Bird List, version 3.4 (2013). However, a number of highly distinctive regional taxa, that are strong candidates for specific status, are included and indicated by trinomial scientific names.
| | | | |
| --- | --- | --- | --- |
| | Pitcairn and its seas | | Count |
| | Murphy's Petrel | Pterodroma ultima | 30 |
| | Soft-plumaged Petrel | Pterodroma mollis | 15 |
| | Phoenix Petrel | Pterodroma alba | 1 |
| | Cook's Petrel | Pterodroma cookii | 2 |
| | Christmas Shearwater | Puffinus nativitatis | 5 |
| | White-faced Storm Petrel | Pelagodroma marina | 4 |
| | Titan Storm Petrel | Fregetta grallaria titan | 1 |
| | Polynesian Storm Petrel | Nesofregetta fuliginosa | 1 |
| | Red-tailed Tropicbird | Phaethon rubricauda | 1 |
| | Great Frigatebird | Fregata minor | 5 |
| | Masked Booby | Sula dactylatra | 6 |
| | Pacific Golden Plover | Pluvialis fulva | 1 |
| | Wandering Tattler | Tringa incana | 2 |
| | Brown Noddy | Anous stolidus | 3 |
| | Grey Noddy | Anous albivittus | 6 |
| | Common White Tern | Gygis alba | 20 |
| | Pitcairn Reed Warbler | Acrocephalus vaughani | 12 |
| | | | |
| | Forty Mile Reef | | |
| | Cape Petrel | Daption capense | 5 |
| | White-headed Petrel | Pterodroma lessonii | 1 |
| | Murphy's Petrel | Pterodroma ultima | 25 |
| | Soft-plumaged Petrel | Pterodroma mollis | 40 |
| | Kermadec Petrel | Pterodroma neglecta | 15 |
| | Henderson Petrel | Pterodroma atrata | 5 |
| | Cook's Petrel | Pterodroma cookii | 1 |
| | Black Petrel | Procellaria parkinsoni | 4 |
| | White-faced Storm Petrel | Pelagodroma marina | 1 |
| | Polynesian Storm Petrel | Nesofregetta fuliginosa | 1 |
| | Common White Tern | Gygis alba | 4 |
| | | | |
| | Henderson and its seas | | |
| | Murphy's Petrel | Pterodroma ultima | 50 |
| | Kermadec Petrel | Pterodroma neglecta | 12 |
| | Herald Petrel | Pterodroma heraldica | 8 |
| | Henderson Petrel | Pterodroma atrata | 300 |
| | Red-tailed Tropicbird | Phaethon rubricauda | 15 |
| | Pacific Reef Heron | Egretta sacra | 1 |
| | Great Frigatebird | Fregata minor | 8 |
| | Masked Booby | Sula dactylatra | 15 |
| | Red-footed Booby | Sula sula | 8 |
| | Henderson Crake | Porzana atra | 22 |
| | Bristle-thighed Curlew | Numenius tahitiensis | 6 |
| | Wandering Tattler | Tringa incana | 1 |
| | Black Noddy | Anous minutus | 2 |
| | Grey Noddy | Anous albivittus | 6 |
| | Common White Tern | Gygis alba | 25 |
| | Henderson Fruit Dove | Ptilinopus insularis | 15 |
| | Stephen's Lorikeet | Vini stepheni | 12 |
| | Henderson Reed Warbler | Acrocephalus taiti | 20 |
| | | | |
| | Oeno and its seas | | |
| | Murphy's Petrel | Pterodroma ultima | 300 |
| | Kermadec Petrel | Pterodroma neglecta | 10 |
| | Herald Petrel | Pterodroma heraldica | 6 |
| | Phoenix Petrel | Pterodroma alba | 3 |
| | White-faced Storm Petrel | Pelagodroma marina | 2 |
| | Red-tailed Tropicbird | Phaethon rubricauda | 50 |
| | Great Frigatebird | Fregata minor | 80 |
| | Lesser Frigatebird | Fregata ariel | 1 |
| | Masked Booby | Sula dactylatra | 5 |
| | Red-footed Booby | Sula sula | 30 |
| | Bristle-thighed Curlew | Numenius tahitiensis | 3 |
| | Wandering Tattler | Tringa incana | 3 |
| | Brown Noddy | Anous stolidus | 10 |
| | Black Noddy | Anous minutus | 3 |
| | Common White Tern | Gygis alba | 25 |
| | Sooty Tern | Onychoprion fuscatus | 40 |